Inputs and examples of the analysis
The FragFlow approach follows several steps, detailed in the following Figure: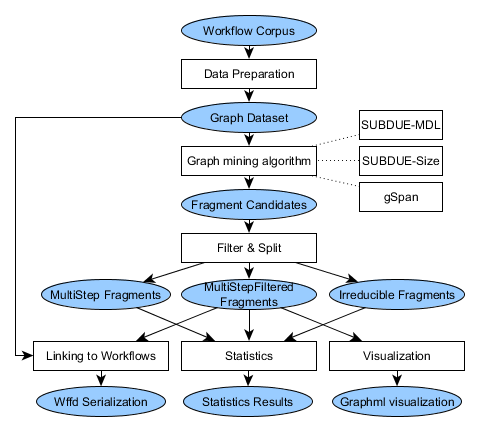 First, a data preparation step is necessary to filter and format the workflow corpus. Then a graph mining algorithm is applied (depending on the choice of the user), and the results filtered. Finally the results are visualized, statistics are calculated, and the fragments are linked to the workflows of the corpus where fragments appear.
We tested our approach on three different workflow corpora created with the LONI Pipeline workflow system. We obtained two corpora from two different users, containing all the workflows created by them or in collaboration with other people. A third corpus contains the runs of 62 unique users submitted to the LONI Pipeline servers during January 2014.
User Corpus 1 (WC1): A set of 790 workflows (475 workflows after applying our filtering) designed mostly by a single user. Some of the workflows are product of collaborations with other users, which produced different versions of workflows originally produced by this user. The domain of the workflows is in general medical imaging (brain image understanding, 3D skull imaging, genetic modeling of the face, etc.), and some are still used by the LONI Pipeline community. Other workflows were designed for a specific purpose and are not reused anymore.
User Corpus 2 (WC2) A set of 113 well-documented workflows (96 after filtering) created and validated by one user, sometimes in collaboration with others. Most of the workflows have been made public for others to reuse6, and range from neuroimaging to genomics. Some of the workflows were developed as early as 2007, and many of them are being used in different institutions.
Multi-user Corpus 3 (WC3) A set of 5859 workflows (357 after filtering), submitted to LONI pipeline for execution by 62 different users over the time lapse of a month (Jan 2014). The number of filtered workflows descends drastically from the input corpus as many of the executions are on the same workflow or are one component workflows designed for testing.
After being processed and filtered, these are the input files generated for the SUBDUE and Gspan algorithms: